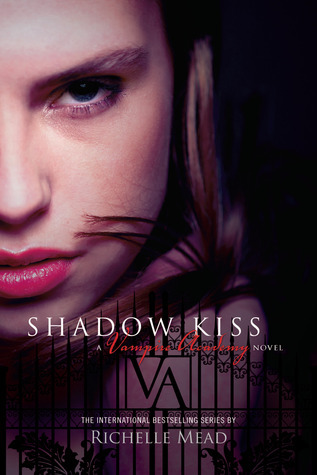 In "Shadow Kiss", the third novel in the Vampire Academy Series by Richelle Mead, everything is pain and everything hurts. This novel will lure you into thinking that everything's going to be alright, when it isn't and never will be. Everyone's issues are revealed and you're not going to want to finish this novel, fearing that it will get worse in terms of emotions.
With Mason dying in "Frostbite", the tragedy only just started- seriously. Starting with his death Rose's connection to Lissa as a shadow-kissed is finally proving to be useful, and I actually think that Mead did a great job at incorporating it smoothely into the storyline. "Shadow Kiss" is basically centered around the guardians and fighting off Strigoi. Rose and the other novices are doing the so-called field experience now, which simulates the life they're going to have when they graduate and are assigned to their moroi. The older guardians are pretendending to be attackers and they have to fight them off. Well, unlucky for the novices the real life experience comes right after that.
Initially I got pretty annoyed with the storyline being centered around strigoi again. I vividly remember that time Dimitri put his hair up for the first time and Rose got SO impressed by him having five molnija marks for having killed five strigoi. Funny, how he's considered such a respectable character in the guardian world, yet has only killed five. It's hard to believe that little novice Rose Hathaway killed two Strigoi in "Frostbite" and a bunch of others in "Shadow Kiss" then. While I do love her as a character, I think she really is a Mary Sue. She can do everything, she can fight everyone and when she can't, it's due to her shadow-kiss situation, but not because Rose Hathaway can't manage to do something once. I don't know, it's not like she's becoming a more unlikeable character throughout the series, but I think that the credit she gets and the fights she is involved in, are solved way to easily on her side. She never has sacrifices to make and is almost never really hurt in battle, while experienced guardians die like flies.
I would have wished the novel to dive a little bit deeper into exploring spirit magic and have less action scenes. Mead crammed all the interesting stuff (the big battle) into the end, causing the novel to drag extremely. I found myself putting it aside for days at a time, because I was so bored with everything. The characters didn't really get to me either, because I felt like Mead rushed their relationships. Starting with Dimitri and Rose, I was actually shocked when he said I love you for the first time to her and it wasn't even addressed in the novel. Casual saturday, the dude you've been loving for ages tells you he loves you and you're like "ha, lol, same." Dimitri and Rose are probably the only couple in literature that manage to seem instant-love-y after three books, still. Not that I don't love them together, but, seriously? They went from 0.5 to 100 within fifty pages of "Shadow Kiss" and I didn't even know whether to shake my head or just start lauging.
Mead is truly the master of dragging storylines around and feeding youw ith unimportant, boring stuff as filler material for the middle and then hitting you like a train with a massive cliffhanger ending that leaves you HAVING to continue. I have to give her credit for that.
Overall: Do I Recommend?
As a standalone, it would be a very weak novel. The middle drags extremely, but the resolutions of previous storylines are both smart and logical. It made me want to smack my head on something for not thinking about them myself. I hope that it will remain the only weak novel of the series. So yes, I recommend.
Rating: ★★★☆☆
Official Synopsis:
"
It's springtime at St. Vladimir's Academy, and Rose Hathaway is this close to graduation. Since making her first Strigoi kills, Rose hasn't been feeling quite right. She's having dark thoughts, behaving erratically, and worst of all... might be seeing ghosts.

As Rose questions her sanity, new complications arise. Lissa has begun experimenting with her magic once more, their enemy Victor Dashkov might be set free, and Rose's forbidden relationship with Dimitri is starting to heat up again. But when a deadly threat no one saw coming changes their entire world, Rose must put her own life on the line - and choose between the two people she loves most."